Global Cooperation
The Ministry aims to contribute to improving global health and the welfare system via interactive cooperation with the international community and partner countries.
Overseas Expansion of Korean Healthcare
The Republic of Korea is a unique country that has transitioned from a receiver of Official Development Assistance (ODA) to a major donor in less than half a century. In 2017, Korea was the 13th largest contributor to the World Health Organization (WHO).

With our focus on the WHO, Korea has participated in collaborative efforts to improve global health and welfare as a member of the OECD, ASEAN +3, UN, G20, and APEC. Following the Global Health Security Agenda (GHSA) High-level Meeting for health ministers hosted in Seoul in 2015, Korea assumed chairmanship of the GHSA Steering Group in 2017. As the former chair of the GHSA Steering Group, we are proactively responding to international health threats, such as infectious diseases and bioterrorism in close cooperation with our partner countries.
International Patient Services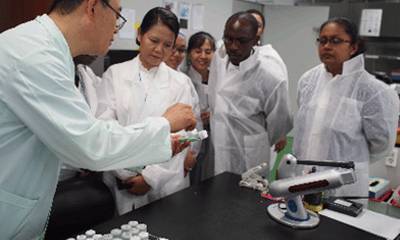 Korea offers quick and effective diagnoses and treatments for foreign patients, drawing on a large pool of competent doctors, innovative technology, and highly efficient systems.

To facilitate foreign patient services, the Ministry has a support system in place, ensuring convenient and safe treatments for foreigners across Korea. Medical institutions treating foreign patients arrange interpretation and multilingual medical consultation services, and these hospitals are required to buy compensation insurance for possible adverse events. To officially recognize exemplary hospitals or medical centers, the Ministry has implemented the Korean Accreditation Program for Hospitals Serving Foreign Patients.

From a wide range of regions, including China, the Middle East, Thailand and other Southeast Asian countries, as well as Russia and other Commonwealth of independent States (CIS), international patients are coming to Korea for treatment. In 2016 alone, more than 364,000 foreign patients received treatment in Korea. This is a 23% increase from the previous year, and this rising trend is projected to continue in the future. An increasing number of these inbound patients are seeking care for cancer, stroke, etc.
Foreign Physician Training
We are running a medical training program for foreign physicians in Korea to share our medical experiences and techniques in the field. A total of 458 foreign physicians, including 133 Mongolians and 56 Russians, have taken the government-organized program since 2012. For Saudi physicians and dentists, 1 to 3 years of long-term training programs are provided.
Expanding Medical Services Overseas
Korea's medical presence overseas has been consistently growing in both depth and breadth. Korean pharmaceutical and medical device companies are actively making advancements into the international market. We are establishing and operating hospitals, diagnosis centers, and fertility centers, while providing hospital information systems and transferring technologies.

A case in point is our consignment operation of a tertiary hospital in the United Arab Emirates. Since 2012, around 200 Korean medical staff have been managing and operating the Sheikh Khalifa Specialty Hospital (SKSH) in Ras Al Khaimah in the UAE under the auspice of the UAE Ministry of Presidential Affairs.
International Patients by Nationality and Treatment (2016)
Percentage of patients by nationality Percentage of patients by treatment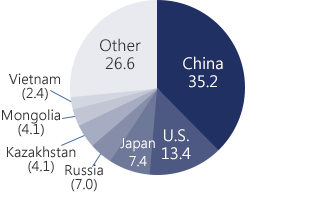 china :35.2
U.S:13.4
Japan:7.4
Russia:7.0
Kazakhstan:4.1
Mongolia:4.1
Vietnam:2.4
Other:26.6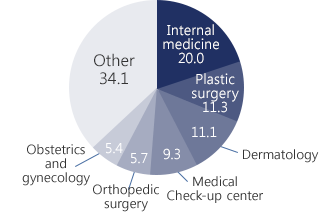 Intermal medicine : 20.0
Plastic surgery : 11.3
Dermatology : 11.1
Medical Check-up center : 9.3
Orthopedic surgery : 5.7
Obstetrics and gynecology : 5.4
Other : 34.1
Welfare Korea Academy (WKA)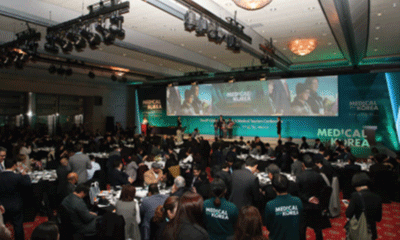 Korea has concluded memorandum of understandings (MOUs) with Uganda, Ethiopia, Mongolia, and Laos, inviting government officials and experts from each of these partner countries to participate in the WKA program. This is a short-term ODA training program that introduces the Korean social security and welfare system. To be more specific, the program consists of lectures on the Korean social welfare system, visits to municipalities, social welfare facilities, and other welfare locations, as well as seminars and discussions focusing on identifying promising areas of cooperation in the field of social welfare. The Welfare Korea Academy plans to expand its partnership with a wider range of developing countries in years to come.
Official Development Assistance (ODA)
In 2009, the Korean government became an official member of the OECD Development Assistance Committee (DAC). Since then, we have expanded the scale of ODA and have cooperated with the international community to help achieve the Sustainable Development Goals (SDGs) around the world. Right after the Korean War (1950-1953), the Republic of Korea received tremendous foreign medical aid and other external resources, which helped us rebuild and develop a successful healthcare system. Based on the invaluable experience, we wish to relay such philanthropic assistance to developing partner countries in the hope of elevating the overall wellness of world citizens. To achieve this vision, we established the Korea Foundation for International Healthcare (KOFIH) in 2006, through which we have carried out a wide range of cooperative ODA activities in the field of medical care across countries in need.

Harnessing our expertise in the medical field, we are now focusing on providing humanitarian aid and transferring knowledge in various forms, including mid to long term medical training through the Dr. Lee Jong-Wook Fellowship Program, which is named after the late WHO Secretary General Dr. Lee. Other forms of support include hospital operation consulting, financial management consulting, human resource allocation, personnel training, and infectious disease control.